Furniture, Automotive and Technical Articles: dedicated installations
The versatility of our solutions and the ability to customise them according to customer specifications allow us to realise polyurethane applications in the automotive sector and in the production of various kinds of technical articles.
In the automotive sector in particular, our technologies help eliminate or reduce vibration and noise, reduce the weight of the vehicle and improve its aesthetics, all to the benefit of driver and passenger safety and comfort.
Here are a few examples:
Furniture: armchairs, chairs, mattresses and cushions, objects, partitions, interior decoration, lighting, wood-effect components, bed frames, headboards and footboards, cabinet friezes, profiles, kitchens; but also viscoelastic products such as pillows.

Automotive: seats, armrests, bumpers, dashboards, exterior trim, headrests, gear lever knobs, sun visors, side mirrors, soundproofing mats, steering wheels, window seals, air and oil filters, etc.
Sports: skiing, elastomer wheels for inline skates, seats for bicycles and motorbikes, shooting targets, boxing glove pads, surfboard materials, climbing grips, etc.
Sailing: floats, padding for seats, padding for mats, bumpers, sleeve bearings, elements for acoustic and thermal insulation, etc.
Miscellaneous: orthopaedic materials, mannequins, shock absorbers, vibration dampers, gaskets for electrical panels, objects for model building, packaging and much more.
SAIPTECH is SAIP technology at the service of ideas, the only ones capable of responding to such a wide variety of polyurethane applications as those required by automotive and technical articles in general.
In the various fields that apply polyurethane, epoxy and silicone resins, SAIP deploys its expertise in chemistry, mechanical engineering, electronics, production processes, end products, etc., a wide range of knowledge that, all together, enable them to transform customers' ideas into winning results.
Customised technological solutions for every application
of polyurethane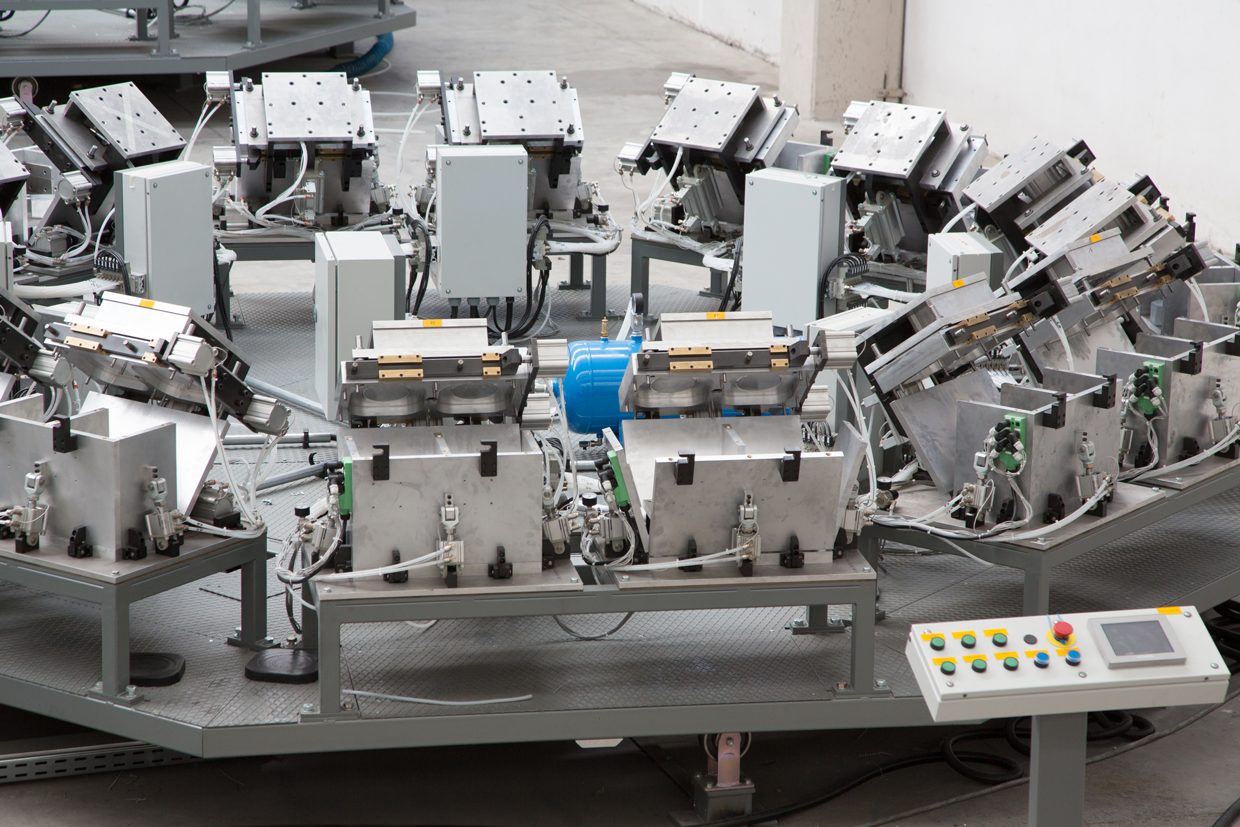 Our offer includes:
Multi-station rotating table
Carousels
Press stations and automotive moulding presses
Automatic foaming with Cartesian manipulators and robots
Press moulds
Gasket plants